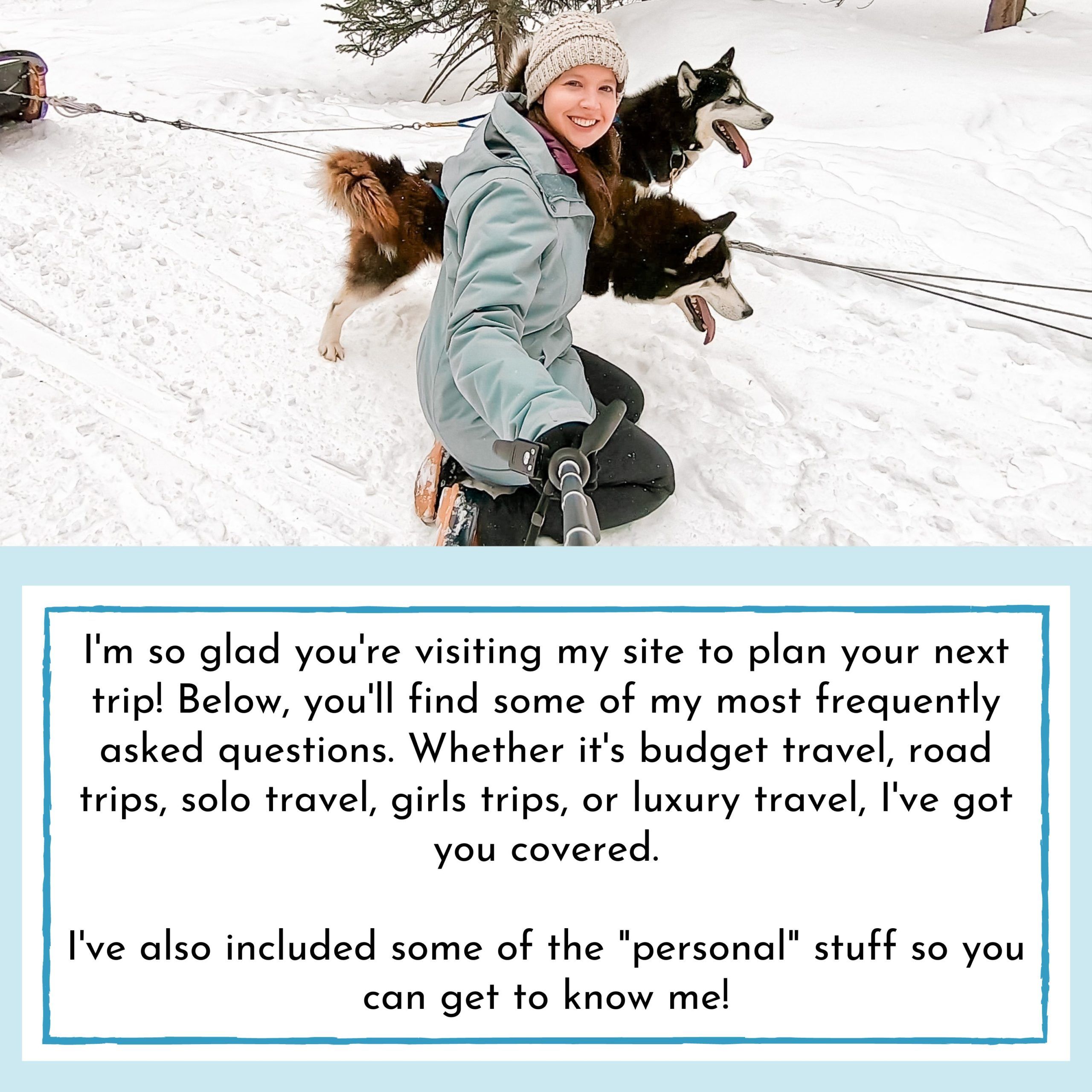 Is solo travel safe?

Solo travel can absolutely be safe! But to be safe, you have to do your due diligence researching where you want to go, have to have the right mindset about traveling solo, and follow these Solo Female Travel Safety Tips.

In most places I've visited, I felt very safe traveling alone. However, in some more conservative countries (for me, India and Guatemala), I chose to go with a group because my research told me that I'd be less stressed, feel less singled-out and enjoy my time more with a group.

Intrepid Travel and Tourradar are great tour options for solo travelers who'd prefer to travel with other people in certain countries. Tourradar also provides guided and self-guided ready-made itineraries for solo travelers.

But even in a country where you feel very safe traveling alone, you still have to "make smart choices" and always be aware of your surroundings. You have to make sure you're as safe and prepared as you can be.

Also, keep in mind that 'safe' doesn't mean 'comfortable.' Most solo travelers can (and most likely will!) feel uncomfortable at times (I still do when encountering truly new or foreign experiences!), but uncomfortable and unsafe aren't the same thing.

Browse my Ultimate Guide To Solo Travel for more advice and tips!

What are my first steps for planning a solo trip?

What are the safest places for solo female travel?

Here are the Best Destinations for Solo Female Travelers. These places are well-traveled, their infrastructure (public transportation, internet, etc.) is reliable, and women don't need to wear conservative clothing.

But outside of warring or ultra-conservative countries, you should rest assured that with some positive thinking and street-smarts, you can be safe and confident traveling solo most places in the world.

Should I study abroad?

I think studying abroad is one of the best things you can do for yourself and your education. I studied abroad three times in college, and these experiences cemented my desire to make travel my full-time job.

Educational trips abroad can range from week-long Spring Break trips to summer-long language programs to an entire semester or year abroad. So, there's a study abroad option for everyone!

Where have you traveled that you'd recommend?

How Can I Travel On A Budget
Where and when was your first international trip?

My family took LOTS of road trips when my sister and I were younger, so I traveled extensively in the U.S. (my home country) growing up.

In the summer of 2007, between my junior and senior years in high school, I went to Italy for twelve days with my Latin III Class. This was only my second flight – ever! But I was a natural (if I do say so myself).

I fell in love with travel immediately. I realized how big and incredible the world is – full of cultures, history, food, and adventures – all out there waiting for me to discover them.

And I still have this same sense of wonder. I know I'll never be able to travel everywhere, but I'm going to spend the rest of my life seeing and doing as much as I can!

Where did you go to college & what was your major?

I went to Seattle Pacific University and have a B.A. in Global Development Studies. Several years later, I went to The University of Maryland for my graduate degree in Multiplatform Journalism with a concentration in Social Media and Audience Engagement.

How often do you travel?

In total, I travel about four months a year, which is usually less than people expect. I'll post and write about places I've been long after I've returned home to stretch out my content (and because I take so many photos and have so much to share!).

I also prefer to travel slowly – averaging about a month in each country. I like to immerse myself in one country at a time instead of country-hopping.

When I'm not traveling, I split my time between my two "home bases" – Chicago, USA, where my sister lives and Chattanooga, TN, where my parents live.

Do you always travel solo?

No. I'd say my trips are about half and half group and solo travel. Some trips I specifically plan to take alone, and some trips, I intentionally plan to take with others. For my other trips, I decide when and where I want to go, and then I ask my friends and family if anyone wants to go with me. If they do, then we go together, and if they don't, then I go solo.
5 things you probably don't know about me...

I drive a stick shift (which has come in handy A LOT), tiramisu is my favorite food, sunflowers and ferns are my favorite plants, Autumn is my favorite season, and I collect wine bottles from every country I visit.

How old are you?

I was born in 1990…so you can do the math!

How do you stay healthy when you travel?

When I'm traveling, I usually walk several miles a day, so I don't work out at a gym like I do at home. When I'm at home, I go to a yoga class twice a week, and when I travel, I still do my weekly yoga sessions either at a studio I've found, or I follow along with my computer. Incorporating yoga from my home routine into my travel routine is always comforting for me.

I'm very conscientious about eating healthy and regularly when I travel. It's easy to skip or skimp on meals because of time or budget, but that can be a detriment to your health and dietary schedule, which can impact your entire trip.

I also double my daily water intake and vitamin doses when I travel.

What are your favorite brands and shops?

I've curated all of my favorite travel products – bags and luggage, skincare and hair products, eco-friendly toiletries, carry-on essentials, photography gear, the best travel gifts, and clothes and shoes for every kind of tip – in my Travel Shop!